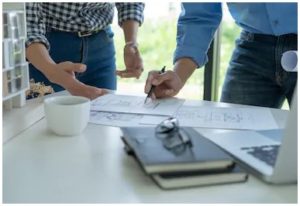 Managing the construction process within the building environment (whether it be residential, commercial or industrial) from conception to completion is called Construction Project Management. This is the process of keeping everything together and in check. MM Group Construction takes meticulous care in the construction project management of our clients and this also permeates through all our construction services and paint contracting.
Construction project management is also the set of tasks designed to keep a project moving forward and to spec. The goal is always to make sure a project ends on schedule and within a set client budget. Our Project Management methodology includes taking care of the finances and budget, negotiate cost estimates, vetting and hiring subcontractors, coordinating and arranging work timetables and calendars.
One could divide the responsibilities of a construction manager into these categories:
Project management planning.
Cost management.
Time management.
Quality management.
Contract administration.
Safety management.
Defining roles and responsibilities.
All Construction Services require meticulous Project Management and a broad array of expertise, along with the ability to work across quite a diverse range of people and creeds to manage a project from start to end. It therefore goes without saying that MM Group Construction would follow all project management principles through the entire life cycle of every project from Somerset West, Stellenbosch and all the way to Cape Town.